Deep learning is key to creating sentiment analysis and determining relative magnitude, first assessed at the sentence level before being evaluated at an article level. Final scores given to articles via sentiment analysis reveal whether the overall assessment is positive, neutral, or negative.
The sentiment spectrum provides overall scores ranging from -100 to 100 and reflects the negativity or positivity of an event.
Let's look at sentiment analysis using some real-life examples.
Case 1
Pier 1 Imports: Bankrupt Due to the Pandemic, But Had Instability Inklings Long Before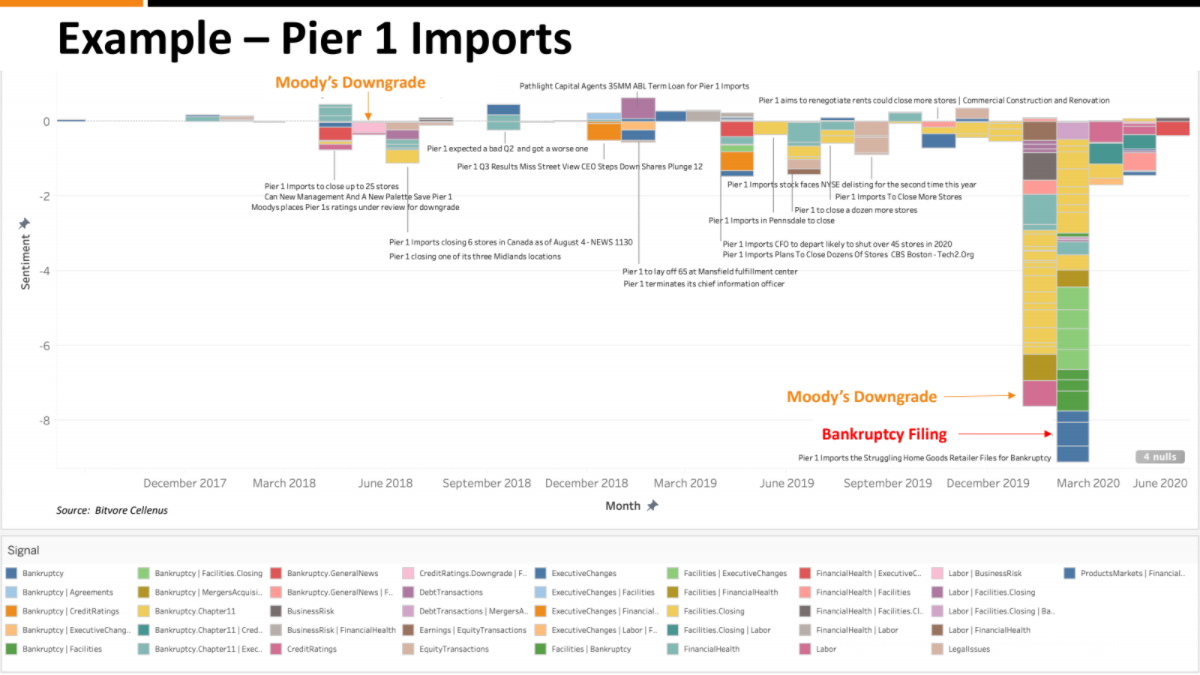 Disastrous events can happen to companies that affect their financial position and long-term viability. However, a string of less significant events typically provides an early warning. Sentiment analysis measures the relative impact of these events utilizing the cumulative scoring mechanisms described. Reviewing sentiment and signal data allows portfolio managers to determine red flags and analyze trends that may indicate potential risk factors, often long before the more significant events occur (e.g., a downgrade or bankruptcy).
Bitvore Cellenus Identified Key Events in the Pier 1 Timeline
Bitvore Cellenus was used to analyze events over a specified timeline for Pier 1 Imports. A downgrade occurred in Q1 2020, but there was a telling set of events that led up to it. Competitive pressures forced the company to rethink strategies and adjust their current business models. Senior leadership changes took place along with store closures in early 2018. Various activities, influencing sentiment analysis scores, occurred between downgrades indicating other potential risk factors, such as additional store closures, delisting concerns, missed earnings, executive turnovers, and distressed debt commitments. Distressed debt is oftentimes correlated with subsequent bankruptcies as companies struggle with cash flows. News stories indicating potential bankruptcy emerged in April of 2019 with ultimate bankruptcy in 1Q2020, citing "the pandemic." Having data like this allows users to understand patterns of events that ultimately lead to default, downgrades and potentially bankruptcies. Sentiment and signal data can be fed into predictive tools to drive credit underwriting decisions.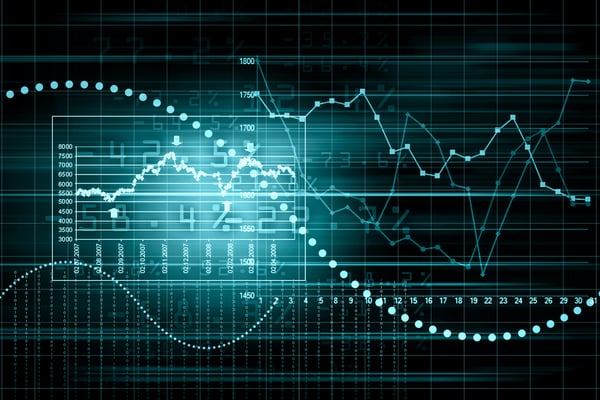 Sentiment Analysis Showed Negative Trends
The power of unstructured data and AI helps companies comprehend the cumulative effects of multiple material events that will likely impact client investments or relationships. Piecing bits of information together over time will provide a more explicit representation of a company's long-term stability and growth. By tracking sentiment over time and focusing on those companies with red flags and potential risk factors, Bitvore customers can carefully analyze specific material business events causing negative sentiments to occur. Bitvore's sentiment scoring helps organizations identify when critical analysis is needed and allows customers to make informed business decisions by identifying potential risk factors. In the case of Pier 1 Imports, the sentiment and signals demonstrated typical patterns of an impending bankruptcy months before the event occurred.
Case 2
J. Crew Goes Bankrupt After Pandemic Lockdowns Start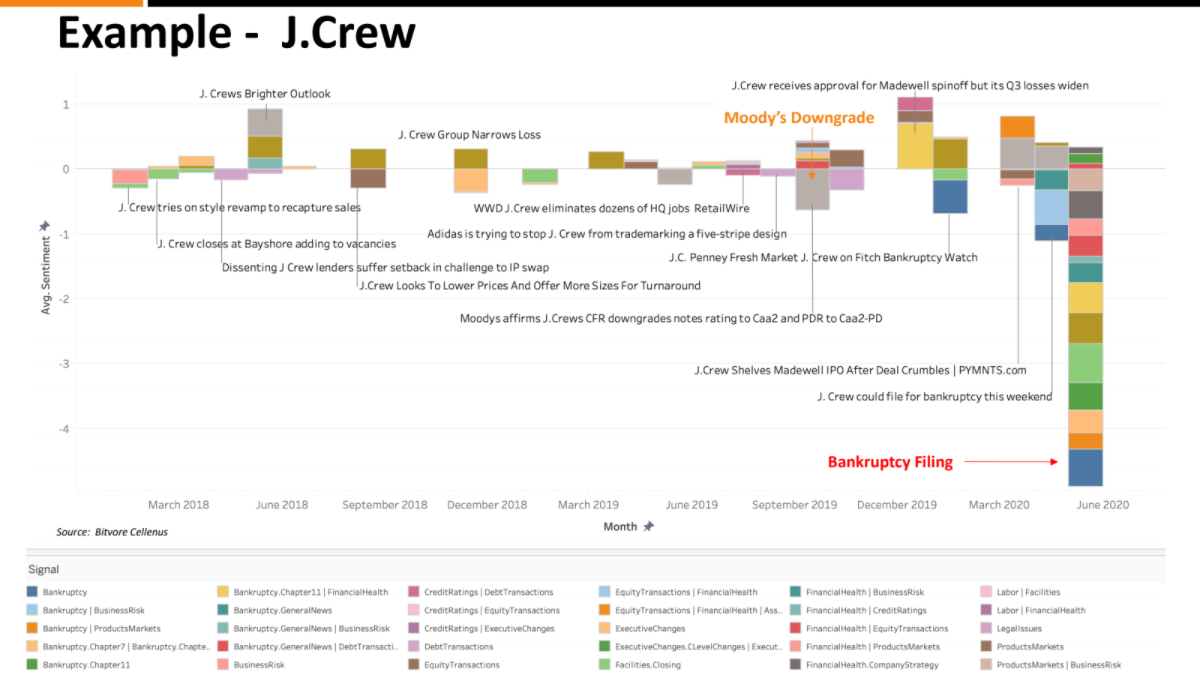 J. Crew had various significant red flags and compounding negative sentiment over the two years leading up to the actual pandemic. The pandemic simply pushed it over the edge, into bankruptcy. Two downgrades occurred in May 2019 and September 2019. Prior events also provided clear signs of corporate dysfunction and instability. For example, in November 2018, there was a mass exodus of staff and executive leadership changes. In January 2019, store closures occurred in four different regions. Although J. Crew eventually experienced temporary performance improvements, the financial difficulties soon became too much to bear.
Bitvore Cellenus Identified Issues Well Before Bankruptcy
Critical events such as legal issues and price fluctuations also signaled points of concern beforehand. Also noted by Bitvore sentiment data, clothing styles were revamped as a means of modernizing and keeping pace with competitors. Other signs of corporate dysfunction, such as product pivots, re-engineering feats, legal issues and leadership turnover indicated additional company performance issues.
Rumors of bankruptcy hit in April 2020 before it fully came to fruition in May 2020. Leveraging sentiment and signal data early on can help you maneuver and adjust your business strategy in advance of a downgrade decision or worst, a default or bankruptcy.
By tracking sentiment over time and focusing on companies with rapid decreases in sentiment, Bitvore's customers make informed financial decisions before their competitors, which is just the edge needed during these turbulent times.